Long before white fella arrived, the indigenous people, now known as Australian Aborigines and Torres Straight Islanders occupied the entire continent and Tasmania.
It is estimated they arrived some 40,000-60,000 years ago. (To put that into perspective, white fella first colonised the east coast in 1788.)
Mungo Man and other remains have been found at the dried up Lake Mungo in New South Wales, some 3000 km south of the North Coast of Australia, and have been dated to approximately 40,000 years ago.
A 2017 paper in Nature evaluated artefacts in Kakadu and concluded "Human occupation began around 65,000 years ago".
The Aboriginal peoples have occupied the same territory continuously longer than any other human populations.
These findings suggest that modern Aboriginal peoples are the direct descendants of migrants who left Africa up to 75,000 years ago.
This finding is compatible with earlier archaeological finds of human remains near Lake Mungo that date to approximately 40,000 years ago.
The idea of the "oldest continuous culture" is based on the geographical isolation of the Aboriginal peoples, with little or no interaction with outside cultures before some contact with Makassan fisherman and Dutch explorers up to 500 years BP.
More than 400 distinct Australian Aboriginal peoples have been identified, distinguished by names designating their ancestral languages, dialects, or distinctive speech patterns.
Before extensive European settlement, there were over 250 Aboriginal languages.
Aboriginal Culture
There are many Aboriginal cultures and peoples. Aboriginal cultures exist and thrive in a wide range of communities throughout Australia. The Aboriginal people you work with are not all the same—their culture, what they value and hold dear, how they live and make decisions and their relationships are diverse. As in Western and Eastern cultures, Aboriginal cultures have characteristics they share and others that differentiate them, so it is important to avoid assumptions regarding Aboriginal cultures.
While diversity exists across and within Aboriginal communities, some Aboriginal cultural characteristics are part of all Aboriginal cultures and unite Aboriginal people through shared history and shared experiences. Understanding these cultural characteristics and appreciating their impact for Aboriginal people today is a cornerstone of cultural competence.
'For thousands of years, the original inhabitants of Australia, Aboriginal and Torres Strait Islander people occupied the lands with very different boundaries than today, centred on intimate cultural relationships with the land and sea.
This map is an attempt to represent all the language, tribal or nation groups of the Indigenous peoples of Australia. Aboriginal and Torres Strait Islander groups were included on the map based on published resources available between 1988 and 1994 which determine the cultural, language and trade boundaries and relationships between groups'.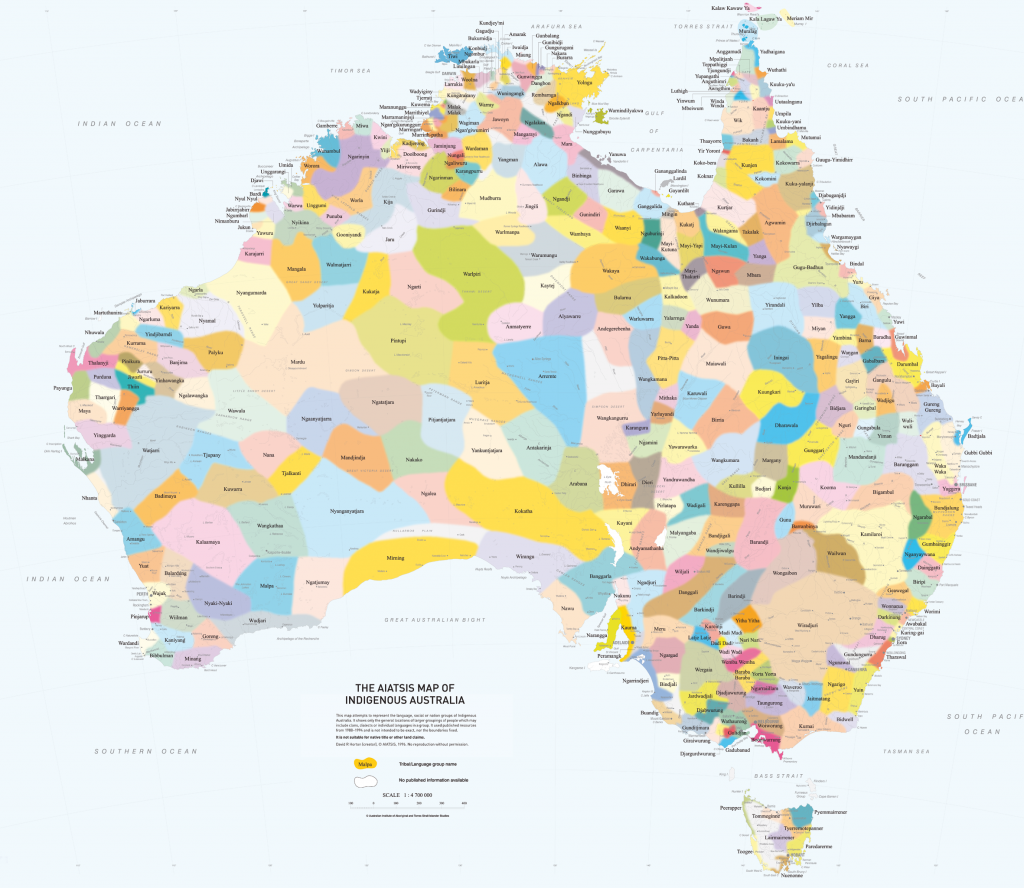 Aboriginal people have a shared history of colonisation and forced removal of their children. To be culturally competent, we must acknowledge and tell the truth about Australian history and its ongoing impact for Aboriginal people, and we should understand how the past continues to shape lives today.
Before colonisation Aboriginal people lived in small family groups linked into larger language groups with distinct territorial boundaries. These groups had complex kinship systems and rules for social interaction; they had roles relating to law, education, spiritual development and resource management; they had language, ceremonies, customs and traditions and extensive knowledge of their environment. In other words, Aboriginal cultures were strong and well developed, Aboriginal communities were self-determining, and Aboriginal children were nurtured and protected.
European colonisation had a devastating impact on Aboriginal communities and cultures. Aboriginal people were subjected to a range of injustices, including mass killings or being displaced from their traditional lands and relocated on missions and reserves in the name of protection. Cultural practices were denied, and subsequently many were lost. For Aboriginal people, colonisation meant massacre, violence, disease and loss.
Despite the past and present impacts of colonisation, Aboriginal kinship systems, customs and traditions still thrive, and Aboriginal people, families and communities remain strong and resilient.
Read more about Aboriginal Culture and History